There's something in the air. Maybe a fart. Maybe kismet.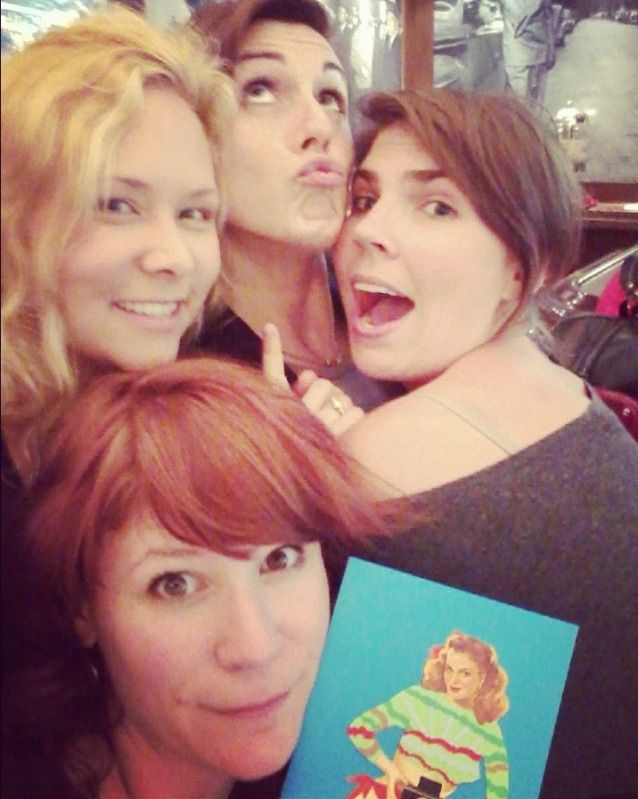 FringeNYC will be as ridiculous and exhausting and rewarding as we make it. It's fun to believe that luck exists. I tell myself to focus on the positive, but then that always gets confused in believing in a horoscope or something, but you know what, people have religion, so fuck it. I enjoy coincidences.
Waiting in line for a cab. We'd been talking to anyone within earshot on the plane for better or for worse. "'5 Lesbians on a Quiche' I don't know about, but 4 Drunk Girls on a Plane was enough to perk my interest," said our new friend, Sean.
Hey now, we're just actors and this is our natural, extroverted personally. Plus, two glasses of wine is child's play.
After the flight we waited in line for a cab. I ask, "Where are you going?" to the college-aged girl standing in front of me. She proceeded to name the exact intersection I was heading to and immediately I swept her up, tattooed her name on my forehead, and became BFF cab buds.
Allison, from St. Louis, went to DePaul for a semester, now in NYC. Studying poetry, [another art], and fashion. Fashion is the one that is making her money.
We dropped her off in the cab, and drove a few more blocks to my destination.
"Can I pay with a card?" I asked the cab driver, which is a Midwesternly polite way of saying, "I don't feel bad about what I'm asking you to do."
"It will be better for you and me if you pay with cash."
"I'm paying with a card."
HOLY HELL, CAB DRIVER. He flew into a rage. A Tasmanian Devil's worth of a cuss-tornado erupted out of the once friendly man. He sputtered. Cursing, sulking, stomping his way to the back of his cab to slam my luggage on the ground as if I was his mom and took his XBox privileges away. Yes, I'm a sucker for the twinge of guilt I felt and tipped 25%–which he won't even be able to recognize as mine–to compensate for the fees. But I apparently I ruined his night. DESTROYED HIS LIFE. Don't give me that power, sir. I will use it for evil.
I got out of the Angry Cab and retrieved my key from a 24-hour convenience store. "There will be an envelope with your name on it," instructed my host through email correspondence.
There was! Faith in humanity restored.
I would have eaten everything in that deli–there were cops and fresh meat being shaved at 12:30 at night. Wait, cops weren't being shaved…My suitcase prevented me from being able to order food without taking out a row of canned goods, so I just went to find my bunk.
So close to the night being done. But everything is worth talking about for once. No longer a routine, everything is interesting and strange.
Left the deli and walked behind a woman sobbing.
I avoided this interaction.
Continued down 9th (Avenue? Street?) to the apartment I was staying at and sat down to dump my brain out onto the page.
My housemates arrived. French and Italian travelers with names I would son mispronounce.  Sleep was restless and NYC continued to be what it is–full of stories.