Tupperware is in tech week right now.  I don't quite know how this theater company does it.  There's hardly ever any down time, and yet we're scrambling and cramming and still learning new songs.  We are still learning and changing things. And yet, it's fine. Imagine me saying this three martinis in, after a week of no sleep, because that's kind of how I'm feeling right about now, sans martinis: "We have this 'there is no other option other than to push through with blind optimism' mentality."  What the hell is wrong with us?  Oh yes, we can't stand working in offices, we can't imagine doing anything else, and we have no where to go but up.
But up.
I'm exhausted.  But up.  Hey look!  An already positive article about Tupperware.
The painting for the Numero Group is so close to being done.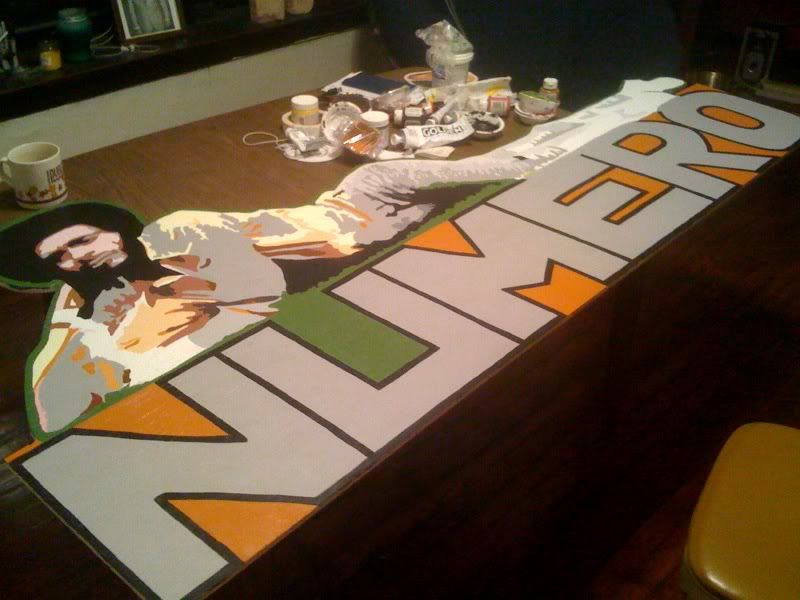 The cat is helping.
There is also a battle of wills with the cat as of late.  The cat is hungry.  The cat needs wet food because the cat doesn't like the dry food we have.  When the cat does have wet food, the cat's food needs to be stirred about every two hours starting at four in the morning so that she can be well fed for her eight o'clock nap.
I have a love/hate relationship with writing about one's cat.